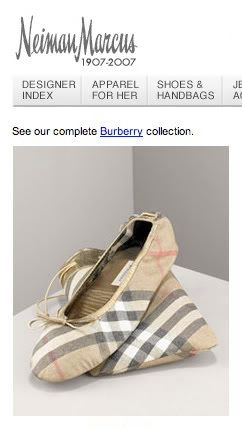 I only wear heels for very special occasions. My mom admits to wearing wooden-heeled Candies around campus, on the job, and out on the town during her college years and she has since had
three
foot surgeries; my cute flats will prevent me from any cutting and sewing on my tootsies.
Unfortunately, last night was one of those nights that requires me to bite my tongue and wear heels. Believe me, I would have pushed it and donned my patent black flats (they're "formal," right?) but the hem of my dress demanded heels and I had a perfect pair.
Fast forward eight hours: I have officially proved that the old adage "pain is fashion" is true. I have two lovely purple bruises on the top of my feet. At least purple is a stylish shade for spring. It looks like a might be forced to slip my feet in uggs and never take them off, but what I really want to do is treat myself - for medical reasons, of course - to these
luxe slippers
.
-tf